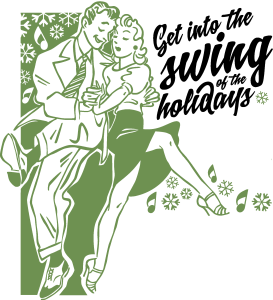 It's that time of year where you are inundated with holiday parties! Well don't forget The Kats Korner's Annual 'Feliz Hannukwaanzramadamas' Dance THIS SATURDAY (12/20)!! It's always a good time with something for everyone: Dancing, dance contest, and Cookie decorating!! Be sure to come swing out with us!! Admission $7, or $5 with valid student ID!
446 E Broadway Mesa, AZ
Beginning East Coast Swing Lesson: 7:15pm Dance starts at 8:00pm
Also, it's no secret that Hepkats is one of our favorite places to dance and I want everyone to come see why this coming Monday (12/22) at Hepkats Holiday Party!! We will have LIVE MUSIC, Dance Contest, Mocktails, Special performances by the Gypsy Jitterbugs, and a bake sale/fundraiser raffle for the Gypsy Jitterbugs team! (Raffle prizes include massages, hair cut, and more!)
SO… Dress to impress and Join us for one more swingin' night before the dry spell over the holidays!
PLEASE NOTE AS OF JANUARY 1st KATS KORNER'S ADMISSION PRICES WILL BE RAISED TO $8, OR $6 WITH VALID STUDENT ID
Save money next year; buy in bulk now! Punch Cards are available that can be used at both Hepkats and Kats Korner! 4 admissions for $20 or 10 admissions for $45! Available for purchase at Kats Korner and Hepkats or **VIA THIS LINK**

The Holidays are right around the corner!! Give the gift of dance to family and friends with either punch cards or private instruction! Dabney and Karen are offering private lessons at an insanely low price of only $50/hour! Check out our Private Lessons Link for more information and to purchase lessons!