Phoenix Balboa & The Kats Korner Present
Mickey's Balboa Bonanza

December 16th-18th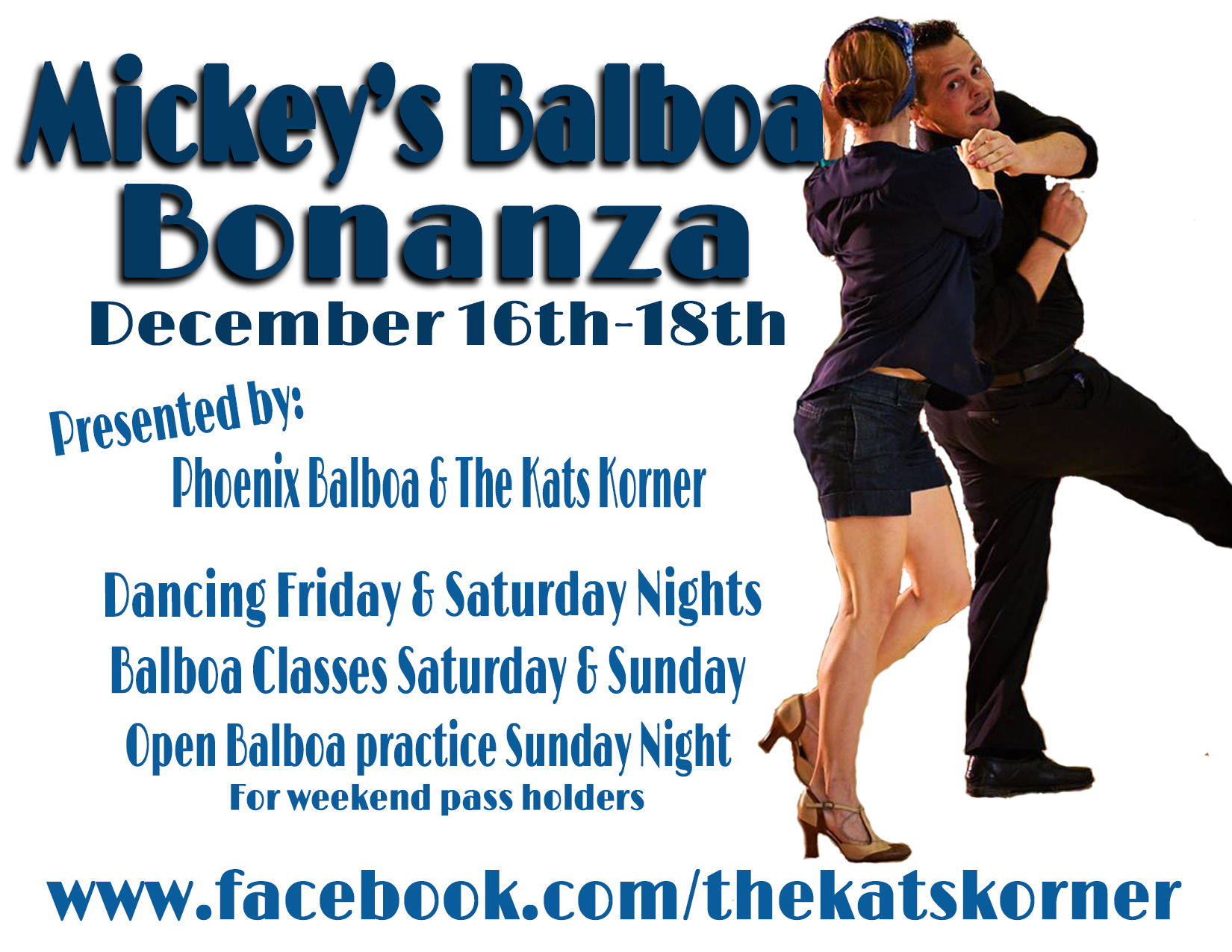 Mickey Fortanasce is in town THIS December! Don't miss your chance to learn from one of the worlds best Balboa dancers in the world!
Mickey began swing dancing in Los Angeles in '99. A year later he was teaching local swing classes at NYU. After graduating he worked with local teams in New York including Varsity Swing and Hop Swing and a Jump and later started running his weekly dance. Mickey has many accalades from all over the world of which include victories at All Balboa Weekend's American Classic Balboa Championship, Balboa Rendezvous' International Balboa Championship, Balboa division the International Lindy Hop Championships, and more!
With a full weekend pass you will get admission to Third Friday Balboa, Kats Korner, Balboa Practice at Gary's house Sunday night, as well as classes Saturday and Sunday!
First FIVE weekend passes are only $75- SOLD OUT

Next set of TEN weekend passes Or until December 3rd are $85

From then on passes are $95
Click the "Pay Now to Register" below to register
A La Carte Pricing
Can't Make the whole weekend?? It's ok! You can still come play with us!
Individual Class: $15
Friday Night Dance: $4
Saturday Night Dance: $10; $8 with Valid Student ID

Saturday Day Pass: $55 – includes all classes for the day and Kats Korner that night
Sunday Day Pass: $50 – includes all classes for the day
SCHEDULE

Friday Night: Dance hosted by Phoenix Balboa "Third Friday Balboa"
7116 E Sunnyvale Rd, Paradise Valley, AZ 85253-2323
Lesson 8:00 to 9:00 with Gary Emery
Dance 9:00 to whenever (there seems to be no end in sight)
Saturday Day: Classes with Mickey 10am – 3pm
Location TBD
Schedule TBD
Saturday Night: Dance at The Kats Korner
446 E Broadway Rd Mesa, AZ 85204
Beginning East Coast Swing Lesson 7:15pm to 8:00pm
Dance 8:00pm to 11:00pm
Saturday Day: Classes with Mickey 11am – 4pm
Location TBD
Schedule TBD
Sunday Night: Balboa practice hotsed by Phoenix Balboa
7116 E Sunnyvale Rd, Paradise Valley, AZ 85253-2323
Schedule TBD